Create a Peter Vukmirovic Stevens station on  Pandora     Spotify     Last.fm

– PARIS
Dear Friends!
My linocut prints of the black "Rhino de Paris" are all gone.
I have just made a limited edition of ten vivid red prints, numbered and signed, "Rhino Rouge".
They are two-color oil based ink, white and cardinal red on 12″ X 16″, (30 x 40cm), acid-free 250 gram paper.
They are beautiful.
…and ready for framing.
$65 gets one mailed to you in the US.
€45 gets one mailed to you in Europe.
€25 gets you one from my studio in Paris.
▲▲▲▲▲▲▲▲▲▲
Interview about my Paris composing residency with newspaper Liberation. (en français!)
Clickez sur photo!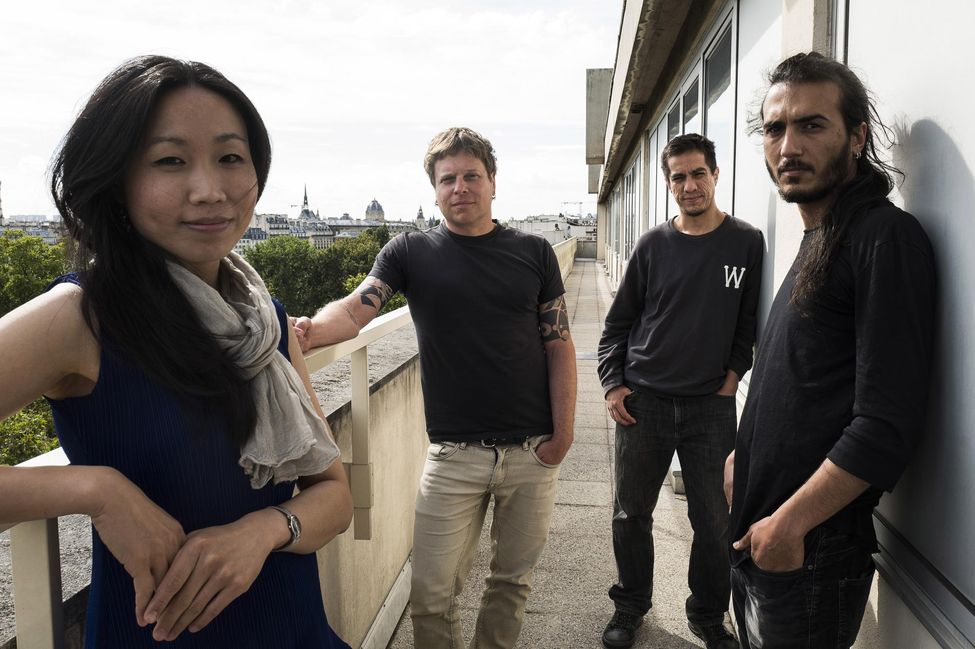 ▲▲▲▲▲▲▲▲▲▲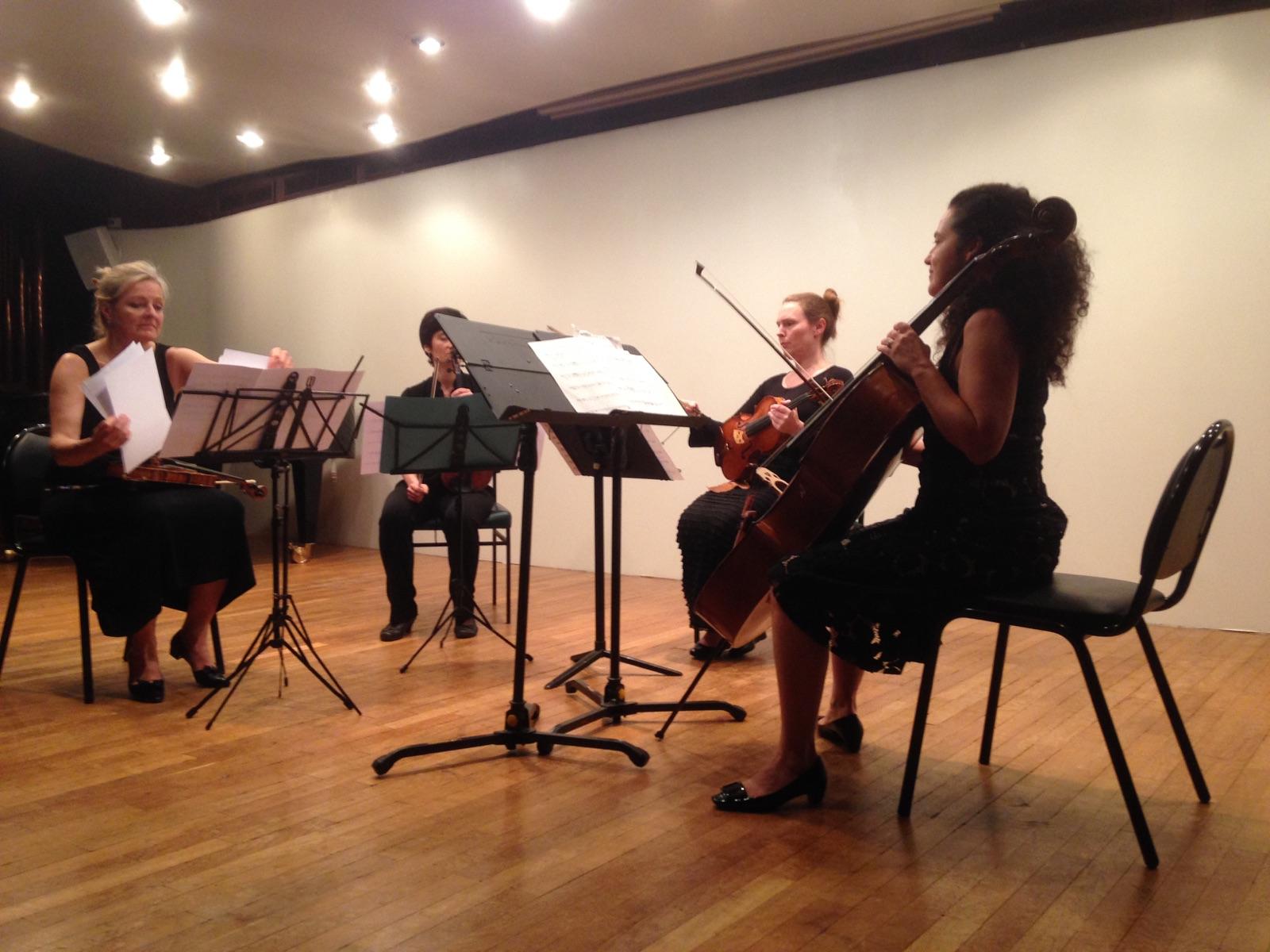 Premiers of two new string quartets.
Ignition Fields and Inter Nos
Monday, June 27.
La Cité Internationale des Arts, Paris
violin I – Heide Sibley
violin II – Cécile Garcia-Moeller
viola – Mara Gearman
cello – Paige Stockley
▲▲▲▲▲▲▲▲▲▲
Group show at La Cité des Arts!
Faut venir mes amis!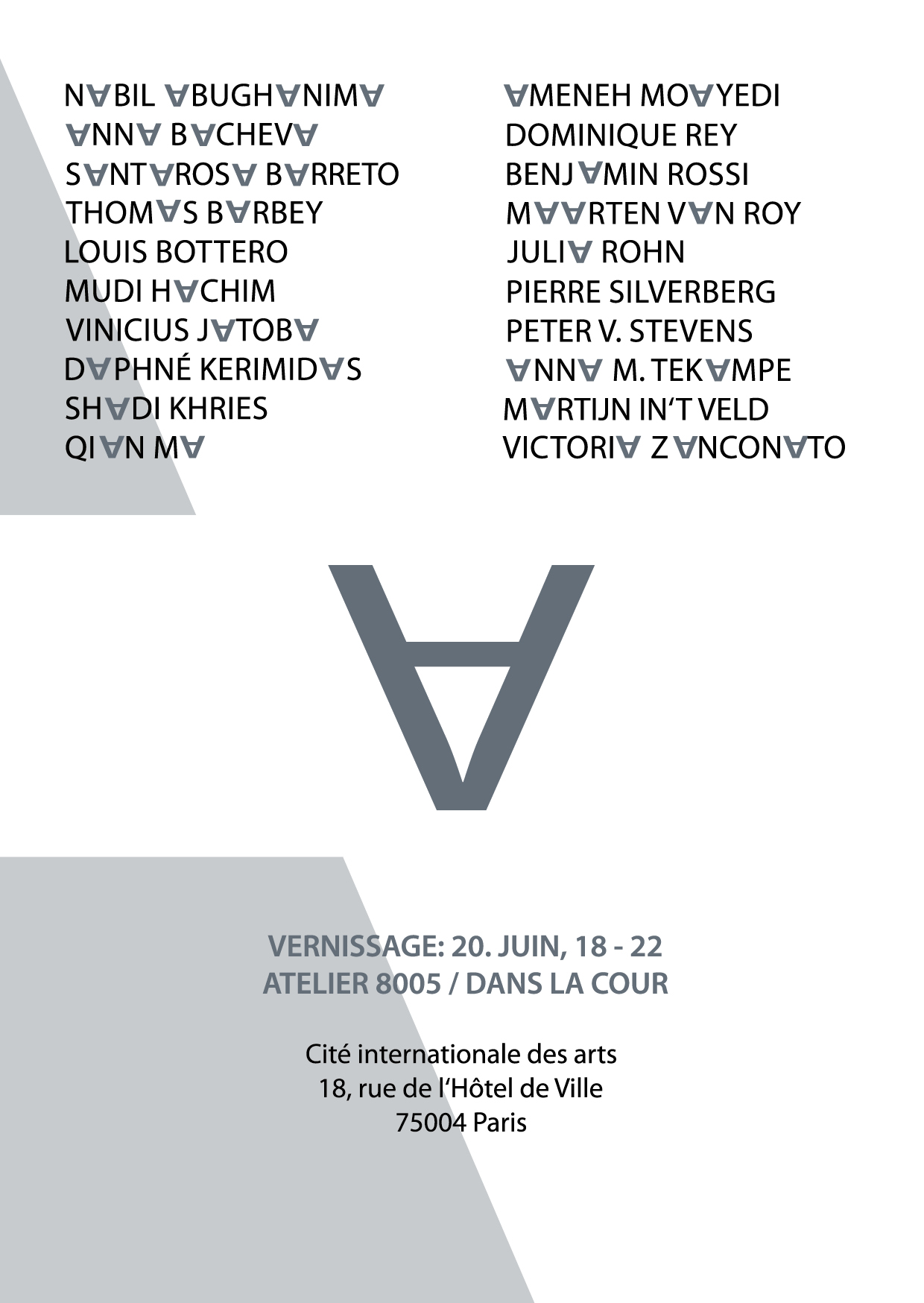 ▲▲▲▲▲▲▲▲▲▲
Praise for Feral Icons for viola by Bruce Reader from
The Classical Reviewer, UK.
click on image
▲▲▲▲▲▲▲▲▲▲
Feral Icons for viola CD release party,
September 2015, Seattle.


▲▲▲▲▲▲▲▲▲▲
Seattle Pianist Collective poster chosen for inclusion in touring Seattle/Tehran/Havana poster art show.
Seattle graphic designer Sean Waple designed this poster for the Seattle Pianist Collective's All Souls' Day concert.
We are proud this poster will be included in a traveling art show featuring music poster art, touring from Seattle to Tehran, Iran and Havana, Cuba.
Visit Sean Waple at: Studio Niterrant
See some amazing posters in the show: Seattle, Havana, Tehran poster show at Bumbershoot.

▲▲▲▲▲▲▲▲▲▲
Capturing the viola's rich and haunting quality, composer Peter Vukmirovic Stevens' second release on Navona Records, FERAL ICONS, is a suite of six works for solo viola performed by the extraordinary violist Mara Gearman of Seattle Symphony. The album embodies the raw and expressive energy of Stevens' impassioned compositional style, inviting the listener on a dramatic narrative.
Click on the album.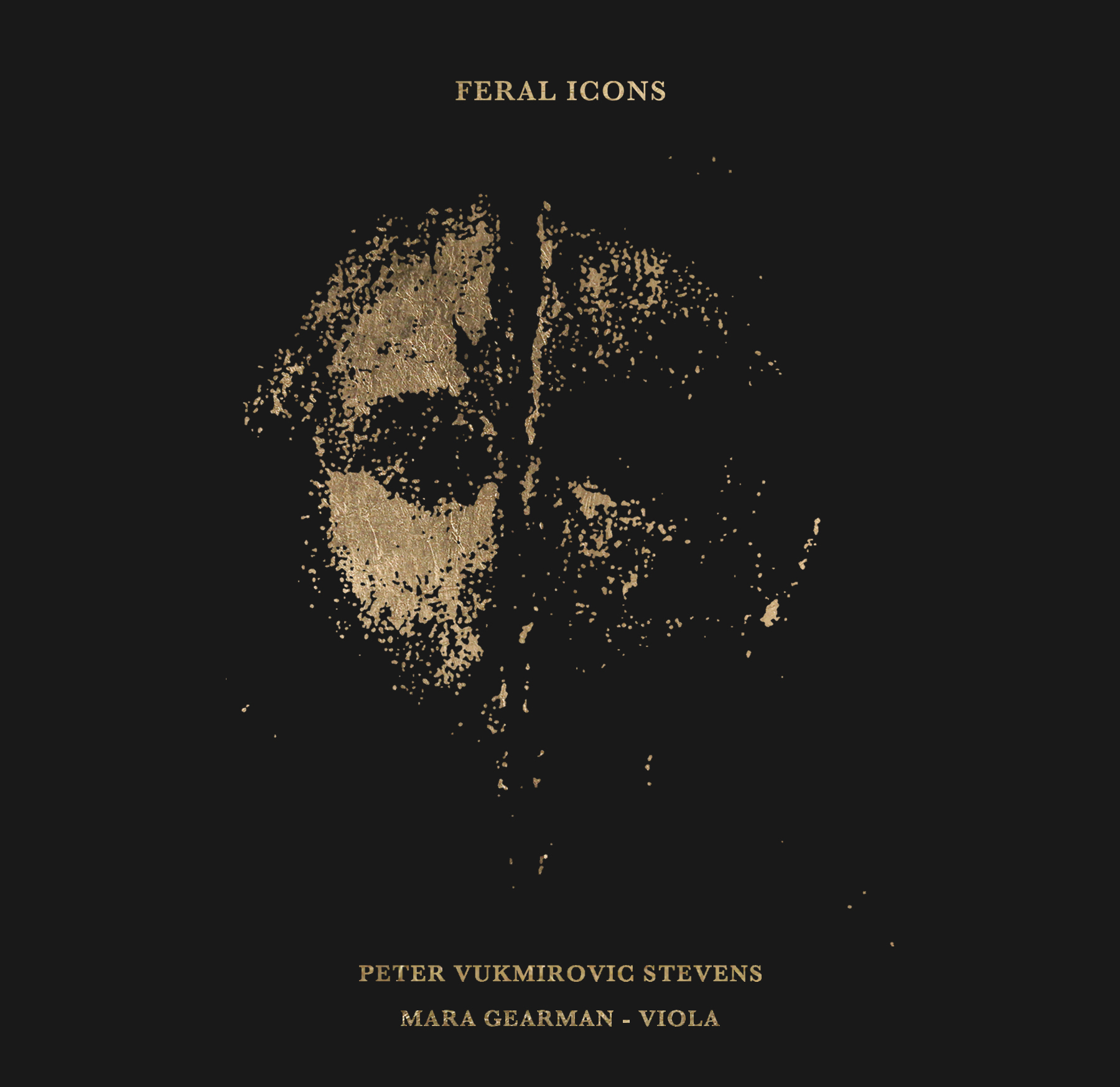 III – Sanctuary, from the album.
"[Stevens balances] the power and intensity of solo viola, all the while maintaining the sincerity, the vulnerability, and above all, the beauty of a single, unaccompanied instrument."
– Maggie Molloy, King FM's Second Inversion, Seattle
"[Feral Icons] is music of great strength and invention."
– Bruce Reader, The Classical Reviewer, UK
"Feral Icons is an album that demonstrates the fundamental quality and voice of the viola. The music weaves a lush sound of expressive beauty throughout the suite."
– Carme Miró, Sonograma, Spain
▲▲▲▲▲▲▲▲▲▲
Click on the album.

V- Thunder, Perfect Mind – solo cello score
"Peter Vukmirovic Stevens' August Ruins is one of the finest pieces for unaccompanied cello to come along in a long time."
– Bruce Reader, The Classical Reviewer, UK
"This five-movement, 53-minute suite for solo cello is lush and uncompromisingly brooding. Paige Stockley plays it stunningly."
– Gavin Borchert, Seattle Weekly
"Profound and gorgeous!  This in an important and wonderful addition to the cello repertoire." 
– Mary Helen Harper, Symphonic Orchestra of Castilla y Leon, Spain
"Great passion, virtuosity, and sensitivity!"
– Matthew C. Weiss,  Octava Chamber Orchestra
▲▲▲▲▲▲▲▲▲▲
August Ruins scores (portfolio) available.
Limited run of 50 hand made portfolios of August Ruins for cello scores.
12″ X 16″, 27 pages – $40.00 + $12.00 shipping (U.S.), $22.00 shipping (Intl.)
Contact composer for payment and shipping details.

▲▲▲▲▲▲▲▲▲▲
August Ruins (Live) out now!

August Ruins (LIVE) for cello, was released on Navona Records on August 12!
The entire August Ruins suite was recorded and performed live in concert by Paige Stockley, the studio album cellist, at Shalin Liu Performing Arts Center in Rockport, Massachussetts in April.
The 54 minute album is available as a digital download through iTunes and Amazon:
In addition, the album has been submitted for a 2014 Grammy in:
Category 78: Best Classical Instrumental Solo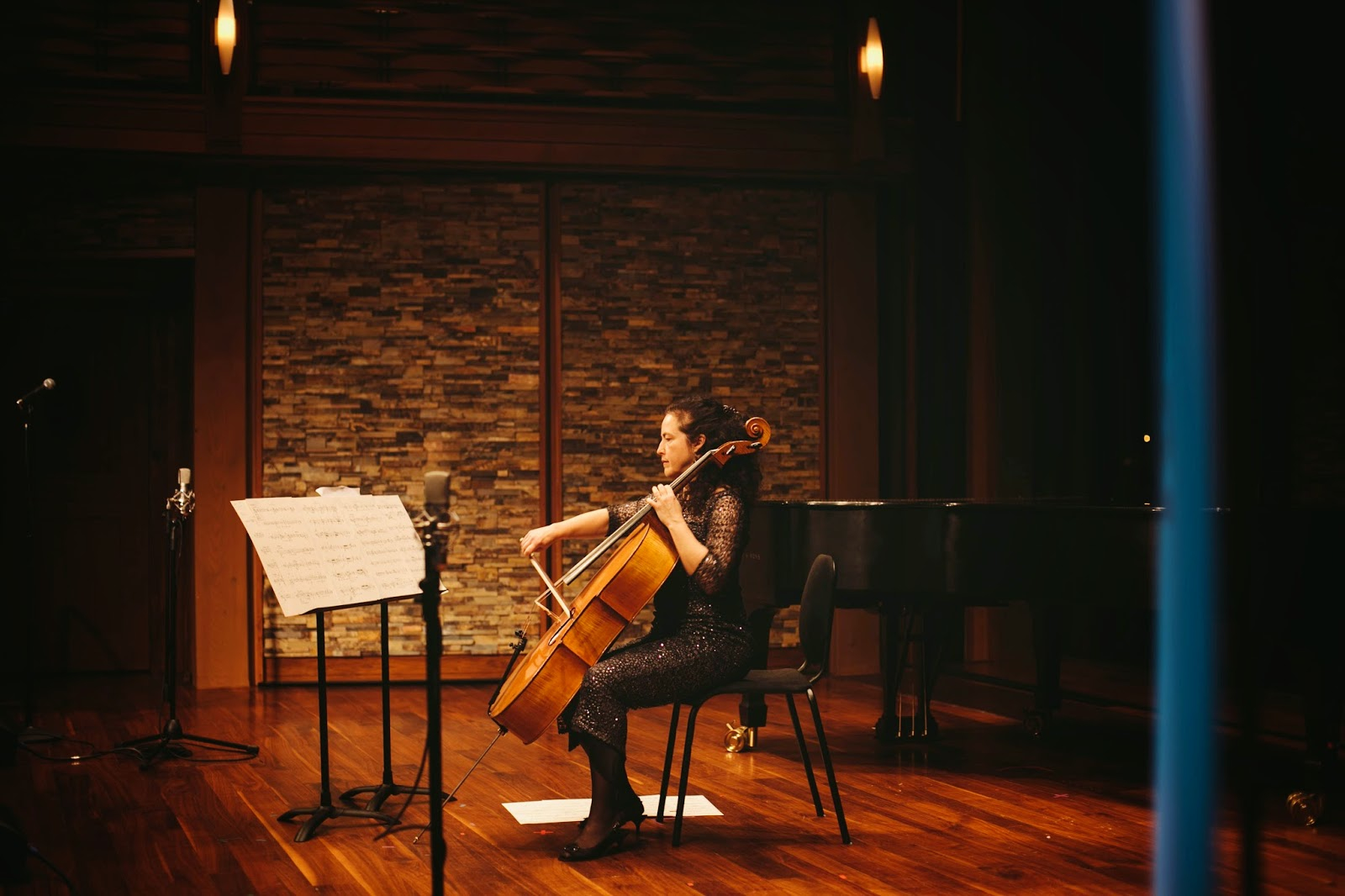 Paige Stockley performing August Ruins at Shalin Liu Performance Hall, Rockport ,MA
▲▲▲▲▲▲▲▲▲▲